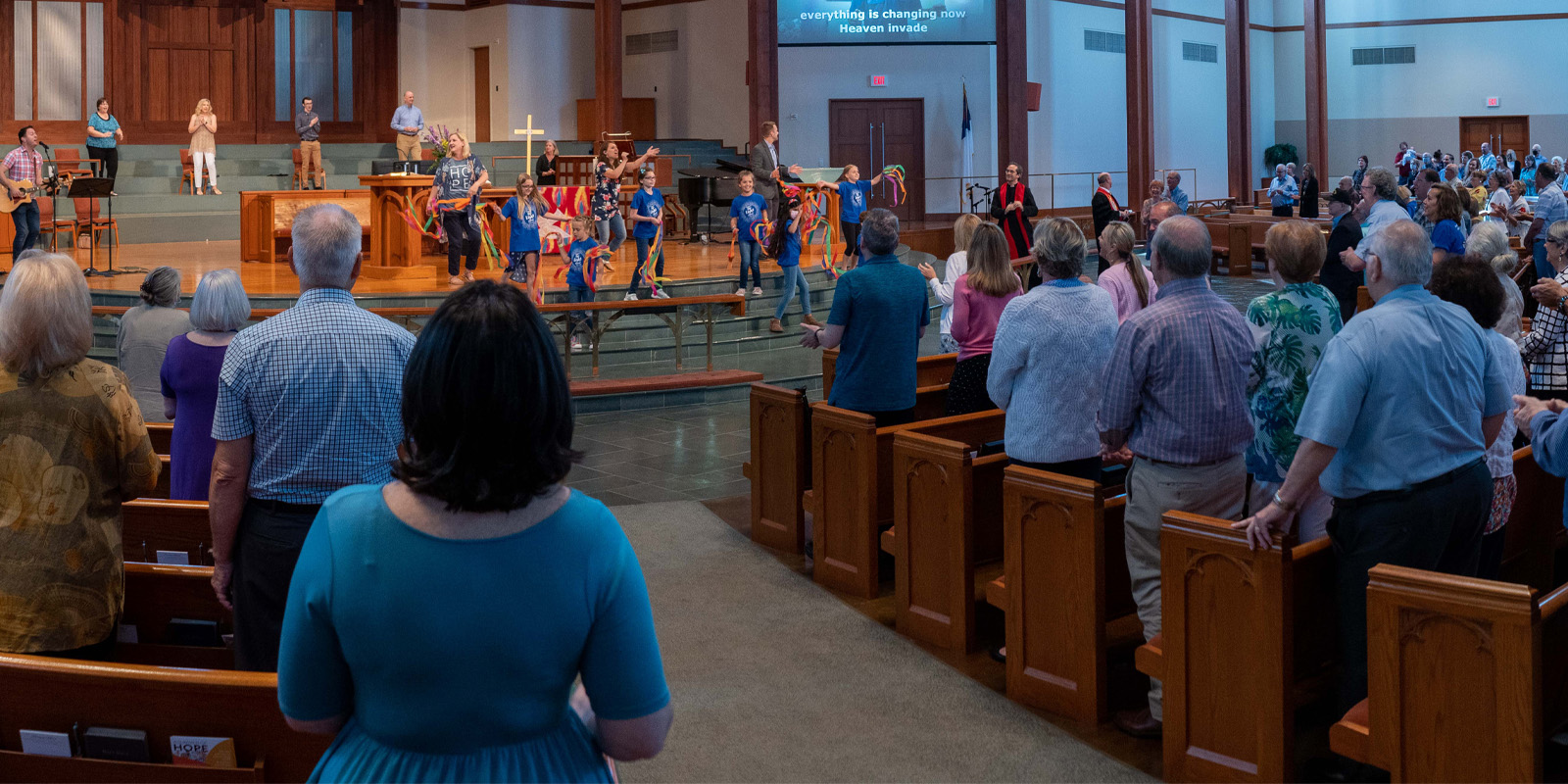 Sundays • 8:45, 9:45 & 11 am
Prayer, scripture and a sermon from one of the pastors are always included in our worship services.
Music is also an important element of worship. Hymns are sung both from the United Methodist Hymnal and the Faith We Sing book. A wide variety of music is a part of worship services throughout the year. Adaptations of hymns, gospel, classical, and contemporary Christian music will be heard in our traditional services. Orchestra, drums, brass, piano or organ may be a part of the musical presentation on any given Sunday.
Communion is served on the first Sunday of each month, except December when it is served at Christmas Eve services. The United Methodist communion table is open to all who seek a relationship with Jesus Christ regardless of age or church membership. On Sundays when Communion is not part of worship, it is offered at 12 noon in Ogden Fellowship Hall.
Media screens are used to display worship music, scripture, and information.
Children are always welcome in worship. Children's bulletins and crayons are at the sanctuary doors.
Alternatively, nursery care is available for children 6 weeks - 2 years during the 9:45 and 11am services. Sunday school is available for children 3 years - 12th grade at 9:45 and for children 3 years - kindergarten at 11 am.
In light of the current pandemic situation:
• Masks are optional, although we highly encourage worshipers to follow CDC recommendations (July 27, 2021) to wear a mask indoors.
• We're utilizing electronic attendance registration on iPads or on your personal device (via the FUMCR app or fumcr.com/CheckIn) instead of passing registration pads. We're not taking reservations.
• Seating is fully open.

Sermon Series
Jan 9-23 • Here's Why
As we embark on a new year, we consider fresh starts, new goals, and revived intentions. But what if we consider something old under a new light, the light that came into the world to illuminate God's love for creation? Let's rediscover why our mission to welcome, grow, and serve guides our ministries and how we can share that light through our everyday actions.
Jan 30 - Feb 2 • Seeking Shalom: Striving for Wholeness in a Fragmented World
Mar 2 - Apr 17 • I Am
Special Accommodations
• WHEELCHAIRS are accommodated beside the narrower front row pews.
• ASSISTED LISTENING DEVICES are available at sanctuary doors to anyone with difficulty hearing.
---
Noon Communion
2nd-5th Sundays in Ogden Fellowship Hall East
A short time of prayer and communion led by a pastor.