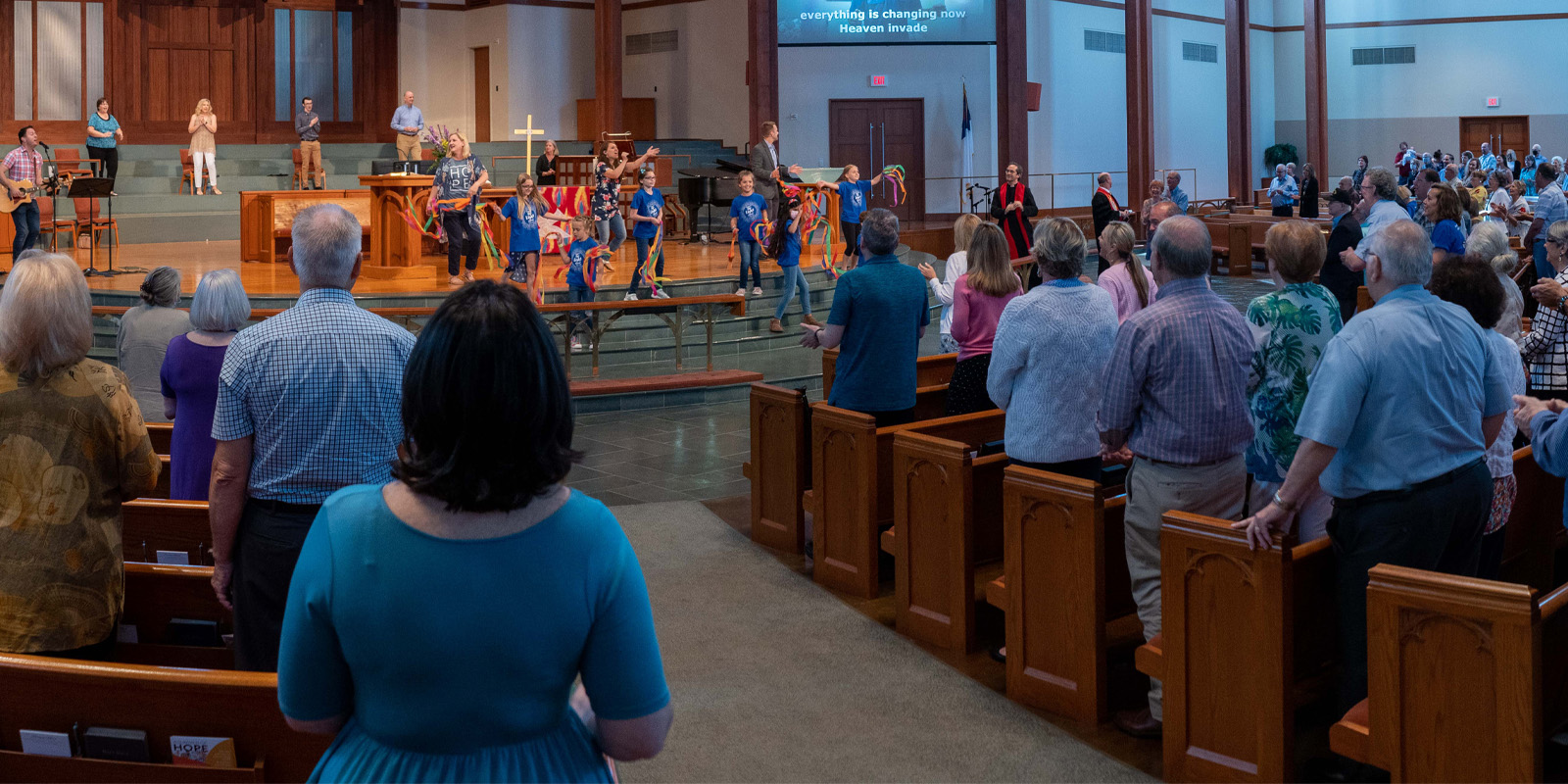 Sundays • 8:45, 9:45 & 11 am
Prayer, scripture and a sermon from one of the pastors are always included in our worship services. Current Traditional Worship Bulletin
Music is also an important element of worship. Hymns are sung both from the United Methodist Hymnal and the Faith We Sing book. A wide variety of music is a part of worship services throughout the year. Adaptations of hymns, gospel, classical, and contemporary Christian music will be heard in our traditional services. Orchestra, drums, brass, piano or organ may be a part of the musical presentation on any given Sunday.
Communion is served on the first Sunday of each month, except December when it is served at Christmas Eve services. The United Methodist communion table is open to all who seek a relationship with Jesus Christ regardless of age or church membership. On Sundays when Communion is not part of worship, it is offered at 12 noon in Ogden Fellowship Hall.
Media screens are used to display worship music, scripture, and information.
Children are always welcome in worship. Children's bulletins and crayons are at the sanctuary doors.
Alternatively, nursery care is available for children 6 weeks - 2 years during the 9:45 and 11am services. Sunday school is available for children 3 years - 12th grade at 9:45 and for children 3 years - kindergarten at 11 am.
Sermon Series
Jan 8 - 29 • It's Go Time
Ultimately, this phrase is calling for one thing: commitment. As we begin a new year and set our own commitments for the next twelve months, we are first and foremost called to recommit to Christ. How can we give our full selves to God in a new way this year?
Jan 29 - Feb 12 • Questions Welcome
Questions and faith: can they coexist? Can we hold deep devotion and engage our brain to wonder about theology, scripture, science, and logic? Throughout the Bible we find faithful people who not only engage with questions, but are brave enough to share them with God. Throughout this series, you will choose what questions we ask together, as a community. We will dive into scripture and our experiences of God to discover the truths that lie within our wondering.
Vote for the following Sunday's sermon topic HERE by noon Tuesday.
Simply Sermons


Weekly sermons from Dr. Clayton Oliphint and Rev. Allison Jean are available here and on Apple, Spotify, and Audible.

For Your Comfort
• WHEELCHAIRS are accommodated beside the narrower front row pews.
• ASSISTED LISTENING DEVICES are available at sanctuary doors to anyone with difficulty hearing.
• REGISTER WORSHIP ATTENDANCE
• VIEW TRADITIONAL BULLETIN