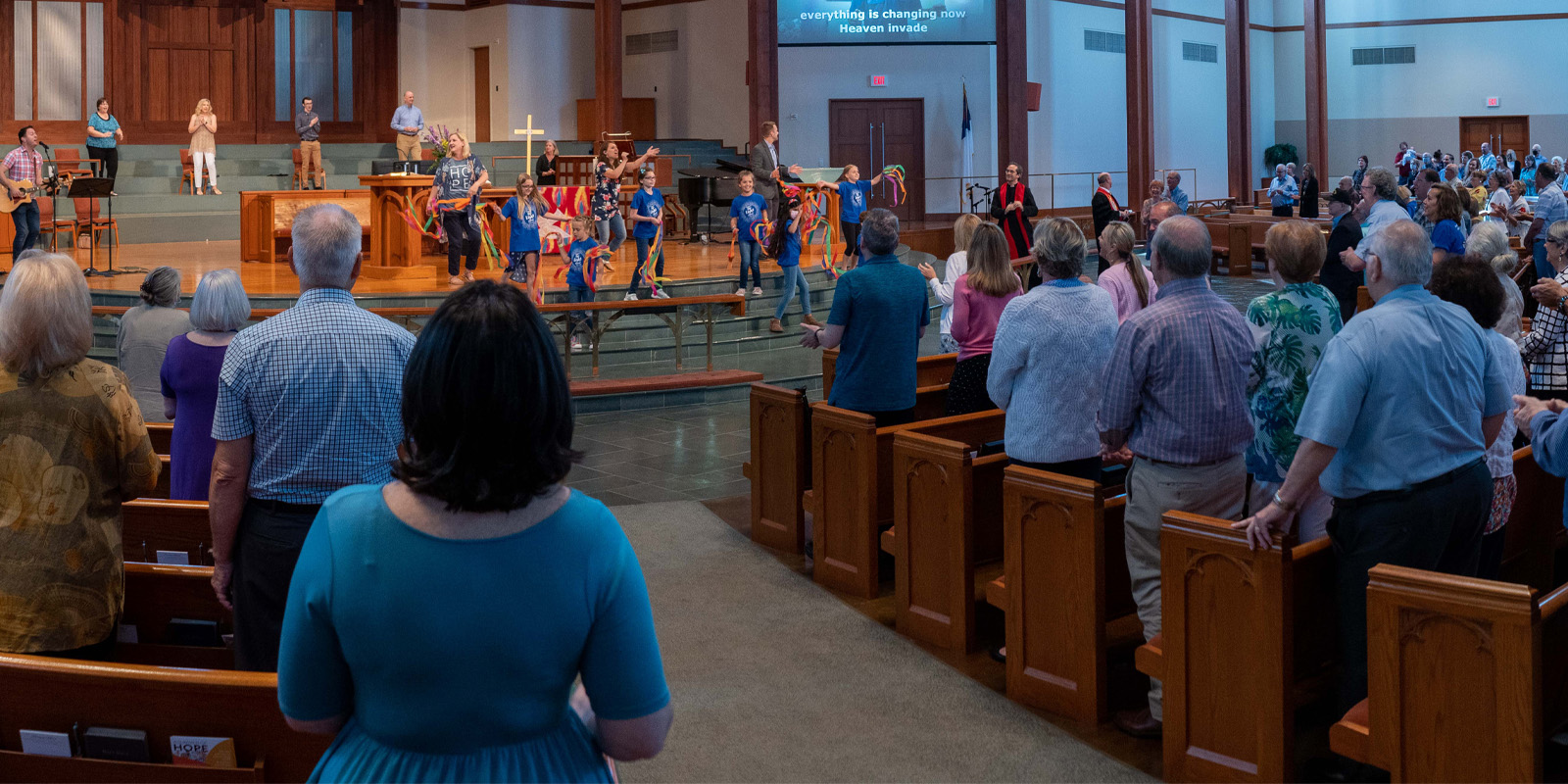 Sundays • 8:45, 9:45 & 11 am
Prayer, scripture and a sermon from one of the pastors are always included in our worship services. Current Traditional Worship Bulletin
Music is also an important element of worship. Hymns are sung both from the United Methodist Hymnal and the Faith We Sing book. A wide variety of music is a part of worship services throughout the year. Adaptations of hymns, gospel, classical, and contemporary Christian music will be heard in our traditional services. Orchestra, drums, brass, piano or organ may be a part of the musical presentation on any given Sunday.
Communion is served on the first Sunday of each month, except December when it is served at Christmas Eve services. The United Methodist communion table is open to all who seek a relationship with Jesus Christ regardless of age or church membership. On Sundays when Communion is not part of worship, it is offered at 12 noon in Ogden Fellowship Hall.
Media screens are used to display worship music, scripture, and information.
Children are always welcome in worship. Children's bulletins and crayons are at the sanctuary doors.
Alternatively, nursery care is available for children 6 weeks - 2 years during the 9:45 and 11am services. Sunday school is available for children 3 years - 12th grade at 9:45 and for children 3 years - kindergarten at 11 am.
Worship Series
Apr 16 - May 21 • Bouncing Back
What do you do when it all falls apart? The truth of Jesus's resurrection at Easter is one we all share: Death does not have the final word. God resurrects what the world rejects. People in the Old and New Testaments show us the ways God brings new life into our hearts and our circumstances. As we read their stories, we hear God's invitation for ourselves: It is time to bounce back!
May 28 • The Power of Pentecost
June 4-25 • Happy Campers
Summer brings all kinds of happy memories: swimming with friends, singing silly songs, and our favorite stories by the campfire. This summer, FUMCR will gather to hear our favorite camping stories in the Bible and remember how God meets us through special moments in the great outdoors. Come camp with us and learn s'more about how to live as the people of God in every season.
Simply Sermons


Weekly sermons from Dr. Clayton Oliphint and Rev. Allison Jean are available here and on Apple, Spotify, and Audible.

For Your Comfort
• WHEELCHAIRS are accommodated beside the narrower front row pews.
• ASSISTED LISTENING DEVICES are available at sanctuary doors to anyone with difficulty hearing.
• REGISTER WORSHIP ATTENDANCE
• VIEW TRADITIONAL BULLETIN