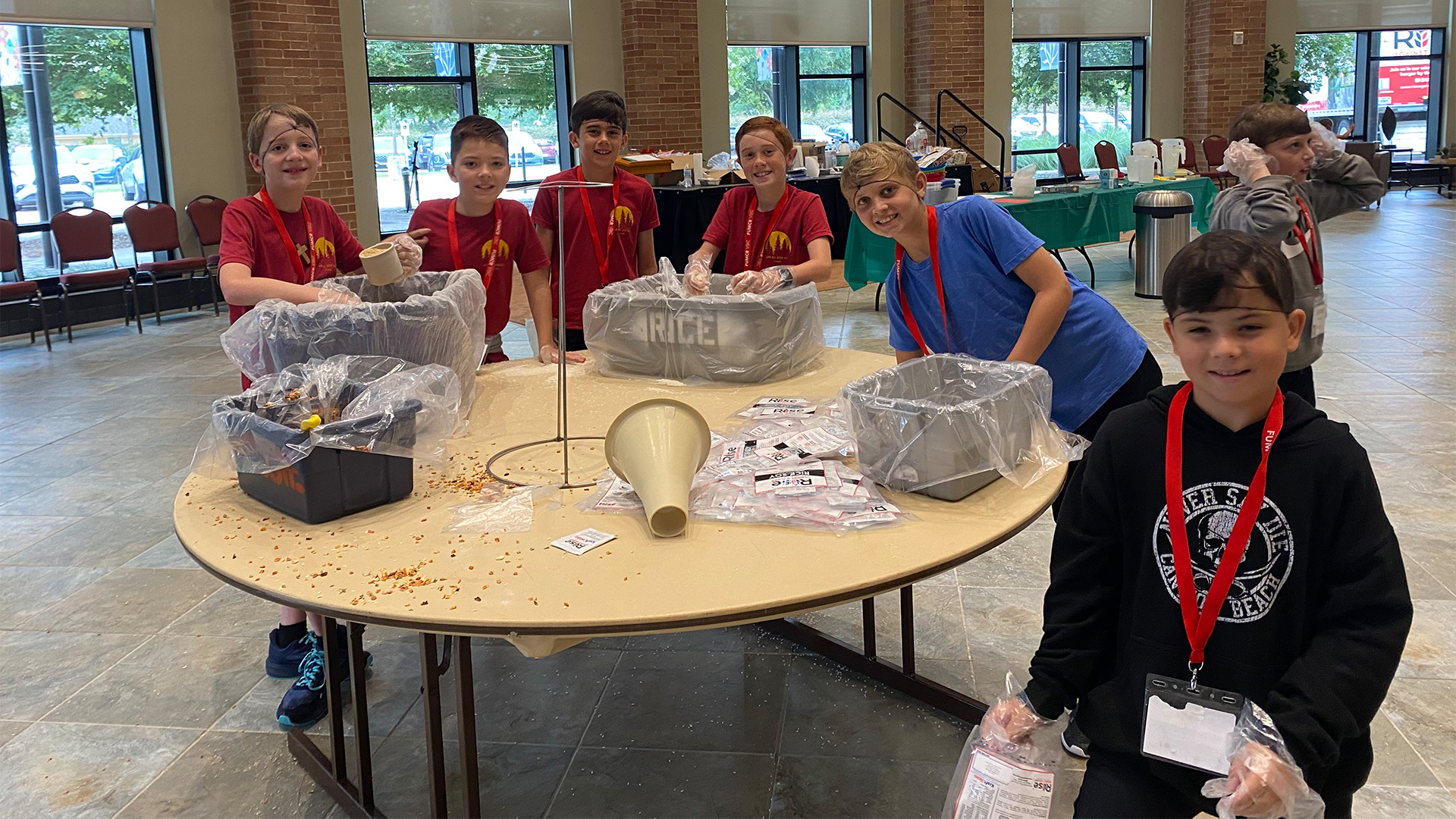 Missions & Community Engagement
And the king will answer them, "Truly I tell you, just as you did it to one of the least of these who are members of my family, you did it to me." - Matthew 25:40
Kairos Prison Ministry
I was in prison and you visited me. -Matthew 25:36
One in six families has someone incarcerated. If you or someone you know has a friend or family member incarcerated see Kairos Outside
.
The mission of Kairos Prison Ministry is to bring Christ's love and forgiveness to all incarcerated individuals, their families and those who work with them, and to assist in the transition of becoming a productive citizen.
Volunteers come in all sizes, shapes, conditions, and capabilities. Some people actually go into prison to work directly with inmates, whiles others pray and make home-made meals in a local church to be served to inmates. Others make cookies at home; still others pray for those involved on the weekend. Some who are financially able sponsor an inmate to participate for the Kairos Weekend. Other volunteers make posters, placemats or write letters that express the love of God for the unlovable.
Kairos Inside Support
Provide support for a Kairos Inside Weekend in one of the following ways:
PRAYER CHAIN VOLUNTEERS: Sign up to pray for half an hour during the weekend. The prayers, containing your first name and city, are linked together. The overwhelming power of God's love is manifested in your prayers a simple, yet meaningful form of Agape.
COOKIE BAKERS: Be in mission in your kitchen! The inmates are blown away by the fact that so many are willing to take time from their schedule to bake cookies as an act of love for someone they don't even know - someone who thinks they are unlovable.
PLACEMATS & POSTERS: At each meal, placemats decorated by children, young adults, or anyone who is willing are used. The posters reinforce God's love and forgiveness.
ATTEND A CLOSING: Your presence shows the inmates that there is a body of Christian believers who believe in them, their success and their place in the Kingdom.
GREEN AGAPE: A typical Kairos weekend costs a considerable amount. If God has entrusted you to give financially, know every penny received goes to the ministry.
Kairos Inside
Kairos Inside volunteers go into prisons in well trained teams of 30 to 40 to pray, share the love and forgiveness of Jesus Christ, share meals and fellowship with the incarcerated on a one-to-one basis.
The first visit is a three-day event, during which time the team teaches a short introductory course on Christianity. Subsequent visits support their weekly prayer and share groups where they can support and encourage each other.
For more general information, visit Kairos Prison Ministry International, Inc. For information on specific units where FUMCR members are active, visit Beto Men's Unit, Estes Men's Unit, Hilltop Women's Unit, Mountain View Women's Unit, and Telford Men's Unit.
Kairos Outside
Families of the incarcerated are "doing time" right along with their loved ones. Kairos Outside is a free program designed to let those families know that there is a community that cares about them and their needs.
The Weekend is a way to help strengthen the family unit and encourage small support groups for women whose relatives are in city, county, state or federal prison; juvenile detention or on parole. We provide a secure place for women to share their struggles with each other and with those who are empathetic to their situations. The women on the outside, in many ways, have to be stronger than their relatives inside to survive in today's world.
For more information, visit Kairos of Texas Outside.
Training for Kairos Inside Teams
Kairos Prison Ministry brings a prison's positive and negative leaders to a 3½- day program where they will receive the love and forgiveness of Jesus Christ. Kairos develops a Christian community on the inside through a structured program of talks, meditations, chapel visits, music, and a lot of listening and loving.
Volunteers go into this mission ministry fully prepared, lifted in prayer and protected by God's love and grace. Training promotes team building and spiritual readiness for this mission, as well as safety and policy guidelines while inside the prison. All volunteers are trained to "Listen. Listen. Love. Love." Clergy representatives are available at each table for questions of faith that arise.
Learn More
To learn more or schedule a speaker about Kairos, the death penalty or related topics for Sunday school or other group, contact: Bob Diggs (bobdiggs@verizon.net), Mary Howard (mehoward77@verizon,net) or Andy Stern (fumcroldguy@yahoo.com).
To learn more about the different male and female prison units that we serve and how you might be involved, contact Andy Stern (fumcroldguy@yahoo.com.
---
Missions & Community Engagement This Week