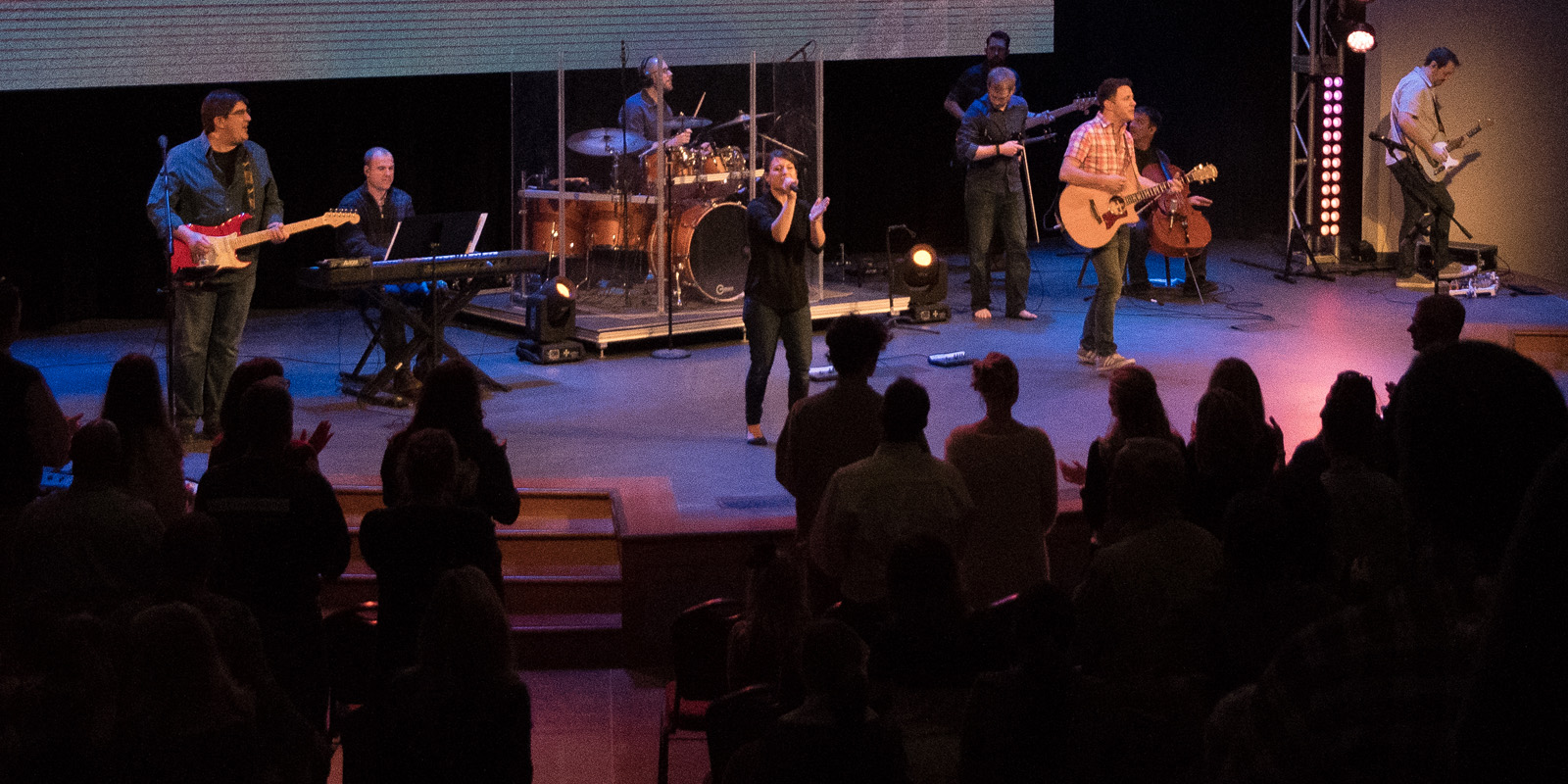 Modern Worship
Resuming Sunday, Aug 15 • 11 am • Worship & Arts Center
Our modern service has two primary goals for each person who joins us in worship: warmth and goosebumps.
We believe that every person on the face of this planet was created by God, in God's image. Due to that fact, we do everything we can to ensure that you experience the warmth of God's love every Sunday morning. When we offer communion on the first Sunday of every month, for example, we invite all people to participate, whether it's your first time in church or your millionth time. We want you to know that you are a person of sacred worth, and we strive to create a welcoming atmosphere of warmth and hospitality.
We believe that a Sunday morning worship service should be transformative. We pray that each person who joins us in worship has a goosebump moment when they experience the living God. This might come through a simple conversation; it might come through the music; it might come through the sermon; or through any of a variety of other elements. However that goosebump moment occurs, we strive to create a transformative worship experience that leaves you different afterward than you were when you walked in.
In light of the current pandemic situation:
• Masks are optional, although we highly encourage worshipers to follow CDC recommendations (July 27, 2021) to wear a mask indoors.
• We're utilizing electronic attendance registration on iPads or on your personal device (via the FUMCR app or fumcr.com/CheckIn) instead of passing registration pads. We're not taking reservations.
• Seating is fully open.
Sermon Series
September 5 - October 10 : Genesis, The Beginning of Our Family Story
Genesis is defined as "origin, creation, or beginning." The book of Genesis tells the stories that explain how the world and humanity were created, as well as how the descendants of Abraham relate to the rest of the world. Almost every new testament author quotes from or alludes to Genesis. What does this book have to say about how we should relate to the world around us today? Join us as explore the beginning of our family story.
Special Accommodations
• CHILDREN of all ages are always welcome in worship! Alternatively, nursery care and Sunday school are available at 11 am for children 6 weeks old - kindergarten.
• WHEELCHAIRS are accommodated in the front row of the stadium seats and at various ends of floor seats.
• ASSISTED LISTENING DEVICES are available at the Welcome Desk to anyone with difficulty hearing.
If you have any questions, feel free to email Pastor Josh directly at josh@fumcr.com.